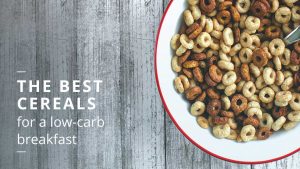 If you're trying to stick to a low carb diet, it's hard to find low carb cereals that taste good and ones that are reasonably priced. Some are simply better than others, but wouldn't be considered truly low carb. Some of the favorites that are lower in carbs include Special K, Wheaties and Cheerios. All of these are about 15 to 15 grams per half cup. While you can add these to your diet, be aware of adding the extras, such as sugar.
Try some different types of cereals.
Hi-Lo cereal from Nutritious Living may not be on every grocery shelf, but it definitely is lower in carbs. If you want variety, there are two different flavors. One is maple pecan with the other vanilla almond. It has a sweet flavor from evaporated cane juice, so no additional sugar is necessary and a half cup contains just 13 grams of carbs. High Fiber Hot Cereal from Sensato's is just 12 grams of carbs for a half cup. It's made from ground nuts, flax seed and wheat bran and comes in a number of flavors.
Make your own muesli.
While the amount of carbs will vary slightly for any homemade product, this recipe is about 6.1 grams of carbs per serving and is gluten free. Mix one cup of each; sunflower seeds, sliced almonds, unsweetened coconut and pumpkin seeds with a half cup of both pecans and hemp hearts. Stir in 2 tsp of cinnamon, ¼ tsp of vanilla stevia drops and ½ tsp of vanilla extract. Spread it out on a rimmed cookie sheet and bake it at 350 for about 7-8 minutes. Let it cool and store in a jar with an airtight lid.
Go for puffed cereal.
When a cereal is puffed, it's bigger, but far less dense. It was started as an accidental explosion in the lab. Today they put high pressure on wheat dough to get the puffy texture. The puffier version of these grains has fewer calories per cup than its counterpart. A half cup of puffed rice has about 7 to 8 grams of carbs while a half cup of puffed wheat has 6 to7 grams.
– A soy-based cereal called Smaps comes in two flavors, cocoa or sweet maple. It has just 8 grams of carbs for a ½-cup serving.
– Try coconut flour porridge for breakfast, which has the texture of Cream of wheat or make your own low carb almond flour porridge.
– There are hundreds of recipes on the internet for low carb granola. Get creative until you find one you really like, then create a batch and store it for a quick morning meal.
– For a "grab and go" breakfast, make your own granola bars using nuts and seeds, coconut and some sweetener and spices.